Service provision: development of animal models
Tumour cell lines available
The Imaging Pole has been developing its expertise at inducing cancer models in mice for many years.
According to your research objective, we can propose:
Models obtained by ectopic (subcutaneous) cell graft
Orthotopic models obtained by transplanting cells or tissue in the original organ,
Metastasis models
These models can be generated from human or murine cells or tumoral tissue and be implemented in immuno-competent or immuno-compromised animals.
The Imaging Pole has available all the necessary material for preserving and cultivating the human or murine cell lines which are essential to the study of cancer.
Numerous bioluminescent tumoral models are available: lung (H460, A549, LL2), colon (HCT116, HT29), prostate (PC3, LNCaP), breast (4T1, MDA MB231, MCF7), pancreas (MiaPaca2), ovary (SKOV3, Ovcar3), glioblastoma (U87), melanoma (B16F10), kidney (786O).
We can also work with cells provided by our clients on condition that these are type 1 GMOs.
Our bioluminescent lines are subject to an extremely restrictive MTA for this specific activity in our imaging pole, and can by no means be transferred to a third party.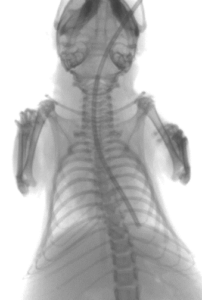 Interventional imaging for induction of lung cancer models: checking catheter position by X-ray. © TAAM
Induction of models under interventional imaging
Interventional imaging consists in implementing an imagery procedure to help and guide the experimenter:
with a technical skill which would otherwise be performed "blind",
with an intervention which is less invasive than when performed by surgery.